I flew back and forth to Phoenix this month. That's 10 hours of prime reading time! And so, we discuss a few more pages than usual this time out.  This month, it's late night TV, stand up comedy and one of the most ubiquitous songs of the past 25 years.
Saturday Night: A Backstage History of Saturday Night Live by Doug Hill and Jeff Weingrad-510 pages
I read 
this book because of the sequester. Let me explain.
A few weeks ago, Bob Woodward started a stupid fight with the White House by claiming one of the President's advisers threatened him. But, when text of the email was released, it was clear that the "threat" was really just some friendly advice and Woodward was trying to get himself into the headlines. At that point, people started tweeting about what a putz he is. One such tweeter referenced Woodward's book,"Wired," which is his now widely-discredited biography of John Belushi. The tweeter (whose name i could easily find if i googled it but I don't feel like it right now) linked to an article he wrote about the time he essentially re-wrote "Wired" but corrected all the inaccuracies. So, I decided to read this guy's book. But it wasn't available on IBooks. When I searched Saturday Night Live, though, this book came up instead. So, I read it. And I liked it. A lot. It focuses on the first 10 years of SNL, from Lorne Michaels coming up with the idea to picking that first cast to having them all leave and watch the show fall into the shit. It ends with Michaels coming back for the 1985 season.
The Jerusalem Syndrome: My Life As a Reluctant Messiah by Marc Maron-194 pages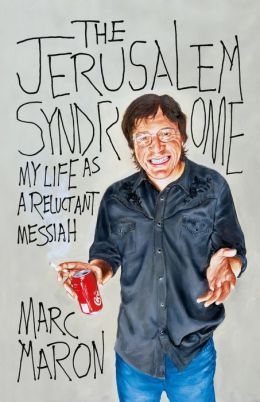 I've been listening to Marc Maron's WTF podcast for a few years, so, despite the fact that we've never met, I feel like we're friends. So, reading The Jerusalem Syndrome was a dicey proposition. You don't want to find out your friend is a shitty writer. Or a weirdo. Or someone who lies about his experiences. Luckily, Maron is none of these things. It turns out, he's a GREAT writer and these stories he wrote in 2001 actually help fill in some of the blanks from his past that he's only hinted at on the podcast. He has a new book coming out at the end of the month. Expect to read about it here within the next few weeks.
The Holy or the Broken by Alan Light-254 pages

What a cool idea for a book! It's not about an artist or a genre or an album. It's about a song. That song is "Hallelujah," written and originally recorded by Leonard Cohen, made more famous by John Cale and Jeff Buckley and then beaten into the ground by every tv singing competition in the world. I want to say I've known this song from the beginning and I'm annoyed by all the Johnny Come Latelys who have decided they love it without really understanding what Leonard Cohen was trying to say in the lyrics. But, I am one of those Johnny Come Latelys. The first time I heard Hallelujah, it was playing during an episode of the West Wing. And that was the Jeff Buckley version. In fact, I had never heard the Cohen version until I started reading this book and looked it up. That was a fun bi-product of this book. Every night, after reading a chapter or two, I would head over to Youtube and listen to the versions that I had just read about. Pretty cool.