Last week, the world marked 100 years since the sinking of the Titanic. Today, we mark the centennial of another disaster. On April 20th, 1912, The Boston Red Sox played their first game at Fenway Park.
I'm kidding. Fenway is fine. It's just the players and fans that are the problem.
John Powers and Ron Driscoll are out with a new book on the beloved Boston Ballpark, called Fenway Park: A Salute To The Coolest, Cruelest, Longest-Running Major League Baseball Stadium In America.  We spoke to Driscoll about Fenway's neighborhood appeal, a possible replacement and the other Diamond that makes it such a remarkable place.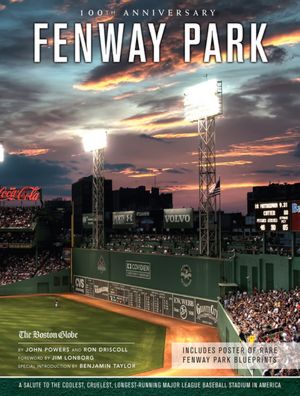 SCP: The initial question has to be "why?" Why does Fenway stand out among all other stadiums? It's a 100 year old building with tiny seats and some questionable sight lines that lacks most of the amenities that even relatively bad stadiums take for granted. But Fenway is Fenway. Can you explain it?
RD: Fenway Park has been around for 100 years, thus it has connected generations of Bostonians – New Englanders, really – to a game and to a place that is common ground for so many of the region's most treasured, and also some of its most nerve-wracking and disappointing, moments… The key word is "shared" experience.
SCP: I went to college in Boston in the late 90's. At that time, there was talk of replacing Fenway with a new building. Why didn't that happen?
RD: The Yawkey Trust, which owned the team at the time, explored the idea of building a new stadium next door to the old, or on the South Boston waterfront. The idea was lukewarmly received by city and state politicos, and it was greeted with outright hostility by many fans, who unified under the "Save Fenway Park" banner in a grass-roots effort to preserve the old ballyard. The Yawkey Trust ownership went on to sell the team in 2002 to John Henry's ownership group, which was the only group among the five finalists that was committed to keeping the team at Fenway for the foreseeable future.
SCP: At that time, it seemed unthinkable to me that a classic stadium could or should be replaced. But, I'm a Yankee fan and I really like the new Yankee Stadium. If the House that Ruth Built can be replaced, why not Fenway?
RD: See above. By the way, I work in New Jersey and have heard from lots of Yankee fans that they prefer the original Yankee Stadium to the new. Too late to turn back now. Or as Rick Reilly once put it, "Let me get this straight. We're bulldozing real vintage ballparks, like Tiger Stadium, to put up fake vintage ballparks?"
SCP: Greatest baseball moment at Fenway? What about the worst?
RD: It's tough to pick just one great moment: Top 5 – 1) Ted Williams's home run in his final at-bat in 1960; 2) Rico Petrocelli catching the pop-up in 1967 that led to "pandemonium on the field" – the Sox, with 100-to-1 odds at the start of that season, clinched the AL flag later that day in the best pennant race ever; 3) Carlton Fisk's home run in Game 6 of the 1975 World Series, capping what many call the greatest game ever played; 4) Ted Williams sitting in a golf cart, being surrounded by the greatest assemblage of players ever at home plate before the 1999 All-Star Game; 5) Dave Roberts' steal of second base in Game 3 of the 2004 ALCS – without it, the greatest comeback in baseball postseason history doesn't happen. But you know that – you're a Yankee fan.
Worst moment? Probably the Bucky Dent home run… (but you're a Yankee fan, so…. you know that, too)
SCP: What are some of the non-Red Sox moments that stand out?
RD: Eamon De Valera speaking before more than 50,000 for Irish independence in 1919; Franklin Delano Roosevelt's campaign speech in 1944 (the last such speech of his life); Boston Patriots playing six seasons at Fenway Park in the old AFL days; soccer legend Pele played at Fenway in 1968; Bruce Springsteen brought rock and roll to Fenway (followed in succeeding years by the Rolling Stones, Dave Matthews, the Police, Paul McCartney, etc.)
SCP: Neil Diamond is a Brooklyn born singer who was lived in Los Angeles for decades. How did Sweet Caroline become a thing at Fenway?
RD: Well, the back story is that Neil Diamond wrote that song in 1969, for Caroline Kennedy (thus a solid Boston connection). But the song was initially played as a birthday tribute in the late 1990s to a girl named Caroline – a friend of someone in the front office, as legend has it. Its popularity grew, and it became an "eighth-inning stretch" staple when the new ownership group took over in 2002.