Like sand through the hourglass, these are the days of our lives. Which is a nice way of saying, "Damn, we're getting old." Here's the latest proof. In the next few weeks, we'll mark 20 years since Christian Laettner hit the shot against Kentucky, to lead Duke into the 1992 Final Four.
ESPN's Gene Wojciechowski has written a new book about the game. "The Last Great Game" dissects both coaches, teams and the circumstances that led up to one of the most iconic moments in NCAA history. We discussed the book, the game's lasting impact and Gimel Martinez's hall of fame mustache. He also does a great job of convincing you to buy his book.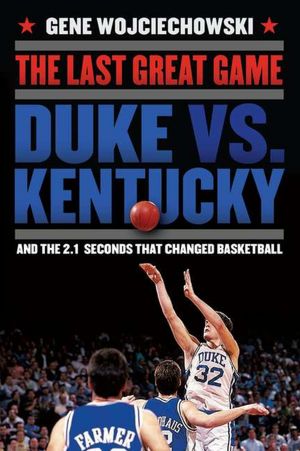 SCP: I remember almost every detail of this game. I remember exactly where I was sitting (in my grandmothers den in Brooklyn, watching on a small tv next to my Dad and my brother.) I even remember the rainbow design on the floor at the Spectrum.  And it's not just Laettner's shot. It's the whole game. The question, then, is why? This was a regional final. It wasn't a championship game. Why does it have such staying power?
GW: 
Which shot do you see EVERY March? The Christian Laettner Shot. You see the Thomas Hill reaction. You see Kentucky's players crumple to the ground. You see exultation and something as basic as, to quote Roone Arledge's Wide World of Sports, the agony of defeat. Everyone can identify with those moments and those feelings: winning. . . Losing. But that game sticks with us not just because of the iconic images, but because of the teams (Mt. Rushmore programs Duke and Kentucky), because of the players (generational college hoops players such as Laettner, Jamal Mashburn, Grant Hill, Bobby Hurley), because of the coaches (Pitino and Krzyzewski), because it went to OT, because the game was played at a high level from start to finish, because you had The Stomp and two other shots that were arguably better than Laettner's game-winner, because it was for a place in the Final Four, because Kentucky was trying to become Kentucky again and Duke was attempting to achieve dynasty status, because of The Unforgettables and because, as you said, everyone remembers where they were at the time.
SCP: After winning this game, Duke went on to play Indiana and Coach K's mentor, Bob Knight. It represented a major turning point in their relationship. Give us some details.
GW: Without giving too much away (after all, I want people to buy the book), let's put it this way: Knight and Krzyzewski had a complex and complicated relationship. Knight was a mentor to K, and at various points of K's life, Knight was also a father figure, a coach, a boss, a very close friend and, at that Final Four semi, an opponent. Heading into that game, Knight had been told that K was trying to distance himself from Knight. It was untrue—Krzyzewski adored Knight and had the ultimate respect for him—but it didn't matter. After Duke beat IU, Knight and K didn't speak for nine years. The details are in the book.
SCP: The game was also a major coming out party for Rick Pitino at Kentucky. But, he almost didn't take the head job there. Why did Pitino decide to leave the Knicks for bluegrass country? Was it a decision he was always comfortable with?
GW: Pitino is and was a COLLEGE hoops coach. It's what he loves most. Kentucky was the Roman Empire of college basketball. He was fascinated by the challenge. Plus, he said he thought he might lose a power struggle with the Knicks GM. In retrospect, had he known one important piece of information (also detailed in the book), he said he would have never left the Knicks.
SCP: Following the shot, Laettner was arguably the most famous basketball player in the world. He went from there to a title to the Dream Team and then… to Minnesota. His NBA career was above average, but certainly nothing compared to his fellow draft class players Shaquille O'Neal, Alonzo Mourning or even Jamal Mashburn. Was he a bust?
GW: A bust? Nah. He played for a number of years in the NBA and was fairly productive. He suffered some injuries, and also suffered from playing on some crummy teams and for some crummy coaches. But here's the thing to remember about Laettner: he was used to competing at the highest level. I think he was disappointed with the commitment (or lack of it) by some of his fellow NBA teammates. I think he loved college hoops and liked pro hoops. I think success in the NBA is dictated partly by which team you play for and what system and coach you're paired with. I'm not sure Laettner was ever put in the right situation to succeed as a pro. But don't get me wrong: I think he actually had a nice NBA career. But it wasn't an extraordinary NBA career by any stretch. He also suffered his share of injuries.
SCP: The shot was amazing, but the pass that led to it was arguably more difficult. It helped turn Grant Hill into a star. Is he the best player to ever come out of Duke?
GW: From a pure athletic standpoint, yes. Duke had never had anyone like him, and I'm not sure they've had anyone close to him since. They've had guys in his mold, but nobody who actually did everything he did on a consistent basis. He transformed those 90-91 and 91-92 Duke teams. I'm not sure they would have won back-to-back championships without him. Every player on those teams would tell you Grant was the best player.
SCP: The '92 tournament final was Duke-Michigan. That means the Fab Five. Obviously, a lot was written about what that team meant at the time, and ESPN did a great 30 for 30 on the Fab Five last year. 20 years later, what did that particular Michigan team mean to college basketball and society overall?
GW: I loved that 30 For 30 doc too on the Fab Five. But it killed me to see it on film. That's because I had reported out all of the backstories, including the tense racial component, between Duke and Michigan a year earlier. So the doc, which aired before the release of my book, sort of undercut my project. But that's how it goes, right? Anyway, I'm not sure that Michigan team had any lasting basketball meaning. It didn't transform the actual way we played the game. But it did do two things: it redefined the thinking relative to true freshmen, and it resonated with a growing hip-hop culture. We're never going back to short shorts. Black socks are here to stay. The Fab Five was the anti-Duke. But the truth is, the Fab Five never won a national championship. In one sense, it overachieved culturally, but underachieved in a basketball sense.
SCP: What are some of the lesser stars of that game up to these days?  I'm especially interested in Gimel Martinez from Kentucky. He looked like he was 35, it felt like he was at Kentucky for 10 years and he had a championship mustache.
GW: I'm trying to remember where Martinez was when I talked with him. Ohio? Miami? Atlanta? I'm drawing a blank. He seemed happy, content, a little amused by the attention still paid to that game 20 years later. But he was proud of his connection. Feldhaus oversees a golf course in Kentucky. Jamal is a business tycoon. Marty Clark runs a basketball academy. Thomas Hill was in real estate in the Dallas area, I believe. Antonio Lang was coaching in Japan.
SCP: Krzyzewski is a long word. Did you actually type it every time or just cut and paste it over and over again?
GW: Typed it every frickin' time. But then again, his name is actually shorter than mine. So I had that going for me. Which is nice.