Leave it to Agent Zero to throw caution to the wind, as well as any residual life lessons from Anthony Weiner's current imbroglio.
The Magic guard has been live-tweeting what is apparently a terrible blind date. And he's cracking me up.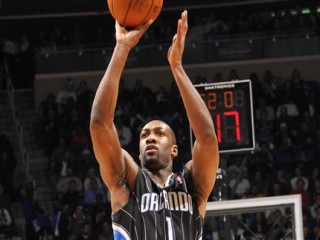 Got hooked up on a blind date..and I guess she was blind when she picked out this outfit ..OMG I thought she was the queen of ZAMUNDA.
Bonus points for the Coming to America reference.
And they want me to go in public with her..I thought she had a bunch of stretch marks but it was just her shirt..lookn like SIMBA
Mr. Arenas is no fan of the animal prints.
Ill let u guys know what happen after this date. Should be funny!!!
Yes. Yes it should.
She just had the nerve to ask me if I like her shirt…"ummmmmm yea on my floor near the fire place"imma call PETA to come get you
You see what he did there? Instead of going with the usual "your outfit would look great on my bedroom floor" gag, Gilbert Arenas went with the bearskin rug reference. That's some solid joke making.
Look at this hot mess…she all most caught me takin the pic..
MULTIMEDIA! Let's look
This dragon can eat….I'm glad were at a all u can eat… She went to the rest rm..I think I'm busted you guys. Her friend texted her.
Damnit. Girls always have shitty friends who ruin things.
I don't think imma get the goods tonight…I messed my chances up..she looked mad..over there lookin like a thunder cat…
Up until this point, he still figured he could bang her. That's the same kind of confidence that helps you hit game winning 3's from midcourt.
If I would hav known i would mess this up I would have taken her to get a "rudy tutti fresh and fruiti meal"from ihop..grrrrrrrrrrrrrrr
That's fruit and pancakes, for the uninitiated. IHOP also has an all you can eat pancakes deal. Gil may have considered this option as well.
She just said this was the worst date every.but I was thinkin the same thing.who wears a shirt they got from 5th ave in new york. on a date
I don't think he means Saks 5th Avenue. I think he means she bought it on the street. The same way my dad used to buy me uncut sheets of garbage pail kids and knockoff transformers.
She called me a jack ass.. I said "she looks so cute with her little ugly self" who's NEXT
No wonder his fiance killed his piranhas and had him served with child support papers at halftime. GILBERT ARENAS IS TOUGH ON THE LADIES!