Starting tomorrow, Hard Knocks comes to the Big Apple (adjacent.) The Amazing HBO series profiles the Superbowl hopeful New York Jets this season. As we did last year, SCP will provide a wrap up immediately following the airing of each episode this season.
At this point, let's preview what's about to come by answering a few key questions.
1. Who will be the breakout star?
All eyes may initially be on guys like Mark Sanchez, Ladanian Tomlinson, Bart Scott or Jason Taylor. And while all those guys will get their fair share of screentime, I would put my money on Dustin Keller being the most popular character. He's got an active twitter feed and he's even begun reviewing restaurants on the internet. Combine that with Hard Knocks past tendency to focus on tight ends, he seems like the sort of guy the NFL films crew will gravitate towards.
2. Who will do himself the most harm?
Two possibilities here. At this point, Rex Ryan is still considered a lovable guy who speaks his mind. But he's teetering ever closer to Ozzie Guillen obnoxiousness. If ever Hard Knocks would include footage of a coach speaking to his assistants while taking a shit, it would be when Rex Ryan is involved.
LaDanian Tomlinson may also see his reputation take a hit. His former Chargers teammates have made some harsh comments about the future hall of famer over the last few weeks and it's quite possible his ego may rub people the wrong way

3. What role will Darelle Revis play?
There will probably be cameras following the pro-bowler as he holds out. He will most often be filmed while wearing a yankee hat, slightly askew.  As for questions about whether the whole thing is being orchestrated to make Hard Knocks more dramatic, I wouldn't discount that out of hand. It's certainly possible.
4. Will Meadow make it an HBO hat trick?
Jamie Lynn Sigler needs to get a job. She hasn't done anything since playing Meadow Soprano, with the exception of showing up on Entourage to give Turtle a hand job on a plane. Now, she's rumored to be dating Mark Sanchez. Does she have an exclusive deal with HBO?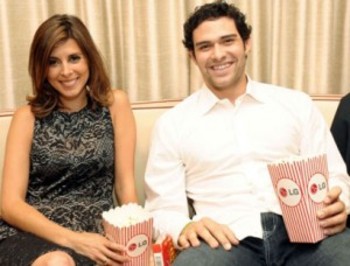 5. Any other hot ladies we can expect to meet?
What about Nick Mangold's younger sister? When he was first drafted, a bunch of shows profiled Holley Mangold. She played center on her high school team.  I would imagine we will be reintroduced to her and the rest of the giant Mangold family.

6. How will this show make your life worse?
It will ruin sports talk radio in New York City for at least a year.  Everyone's used to idiot Jet fans calling up and complaining about the way the team is playing. But now, those same fat mechanics from Long Island will call up WFAN and say things like "I've heard that player X doesn't like player y, and I've been told Rex hates player z."  But, you haven't been told anything. You just watched the same show as the rest of us, you slob. It doesn't give you any new insight. AHHH! I am pre-angry about this.
and make sure to check out our good friend, John from 200 miles from the Citi, who will certainly have plenty to say about the show.