ESPN the Magazine is about to release a new poll of players in the NHL. In addition to the usual questions about how well Gary Bettman is doing or what the sport needs to improve it's popularity were two others that are far more interesting.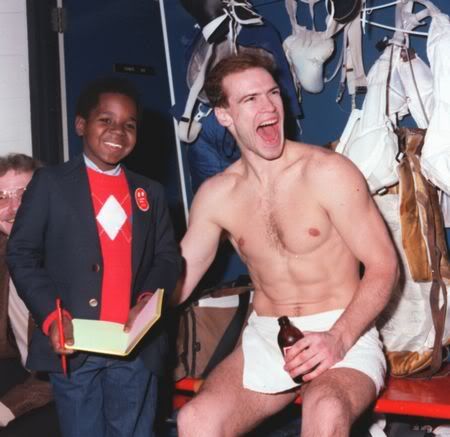 1. Which town has the best groupies?
2. Do you think you have any gay teammates?
As far as the best groupies?
If you're a hockey player living the bachelor life then Montreal is the city for you, earning a 42 percent endorsement. The second place city was Vancouver at 18 percent but then again, we could have just asked some of the Chicago Blackhawks. In a surprising fifth place was Long Island with four percent. I guess the near-by Hooters on Hempstead Turnpike and Hofstra University helps attract the puck bunnies near Nassau Coliseum.
and the gay question?
Forty-two percent said yes, they believe there's a gay player in their locker room.
And no, I am not insinuating that Mark Messier brought Gary Coleman to Montreal to  have gay sex with him.  That's what the owner of the bike shop did to Dudley.