It's one thing for the hyper-partisanship in Washington to derail healthcare reform or delay much needed unemployment benefits from being extended for millions of Americans. But now, on the eve of  Sports Nirvana, its seeping into our college basketball system. And that is RIDICULOUS!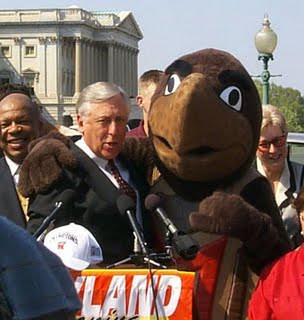 Are House Republicans rooting against the Terps in the Big Dance?

That's one possible interpretation of an odd saga that has unfolded on the House floor over the last 24 hours, culminating with a vote minutes ago on a resolution "Congratulating the 2009-2010 University of Maryland Men's Basketball Team, Greivis Vasquez, and Coach Gary Williams on an outstanding season." The measure passed, which seems normal enough, but with 132 members — all but two of them Republicans — voting against, which is not to normal for such routine symbolic bills.
It looks like  While  the congressman who raised the loudest objections pointed towards the fact that Maryland has the lowest graduation rate of all the schools in the tournament (That's a funny fact to rub in the face of our large Terapin readership,) It appears the real reason the Republicans voted no is because Majority Leader Steny Hoyer went to UMD.
FUCK YOU, REPUBLICANS!