Chris Chelios has been activated by the Atlanta Thrashers. Yes, that Chris Chelios. The one who played his first NHL game for the Canadiens in 1984.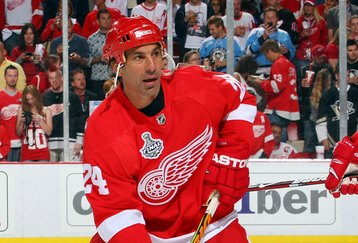 At 48, Chelios becomes the second oldest player in league history, behind only Gordie Howe.
He made his NHL debut before 8 of his new Atlanta teammates were born. If you think that's crazy, check out this exhaustive list of people younger than Chris Chelios:
Canucks coach Alain Vigneault, Flyers coach Peter Laviolette, Flames coach Brent Sutter, Hurricanes coach Paul Maurice, Avalanche coach Joe Sacco, Red Wings coach Mike Babcock, Panthers coach Peter DeBoer, Wild coach Todd Richards, Predators coach Barry Trotz, Islanders coach Scott Gordon, Senators coach Cory Clouston, Penguins coach Dan Blysma, Sharks coach Todd McLellan, Blues interim coach Davis Payne, Lightning coach Rick Tocchet
Hall of Famers  Steve Yzerman, Luc Robitaille, Brian Leetch, Brett Hull, Scott Stevens, Al Macinnis, Ron Francis, Patrick Roy, Cam Neely, Pat LaFontaine, Grant Fuhr, Dale Hawerchuk, Mario Lemieux
Alaska Governor Sean Parnell, Iowa Governor Chet Culver, Louisiana Governor Bobby Jindal, Maryland Governor Martin O'Malley, New Jersey Governor Chris Christie, Oklahoma Governor Brad Henry
OMB director Peter Orszag, UN Ambassador Susan Rice, Secretary of Education Arne Duncan, Secretary of Housing and Urban Development Shaun Donovan
US President Barack Obama, Mexican President Felipe Calderon, Russian President Dmitry Medvedev, Swedish Prime Minister Fredrik Reinfeldt
Like I said, Chris Chelios is old. Really freakin' old.