HBO has aired episode 1 of its continually amazing training camp series, "Hard Knocks," focusing this season on the Cincinnati Bengals.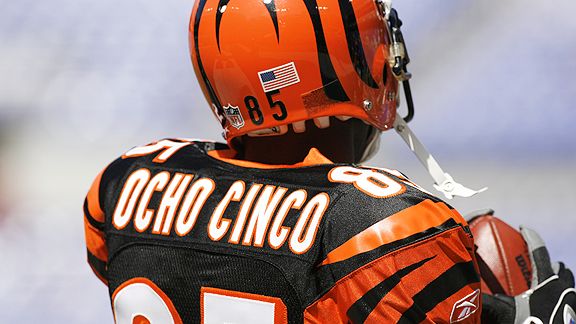 And after 1 hour, here's some impressions:
1. Guys we're rooting for:
-Fullback Chris Pressley: He may be a longshot to make the team, but the personal story is pretty impressive. He grew up poor in New Jersey and had a kid in high school, but still managed a 3.9 GPA in high school and a 4.0 at Wisconsin. And he seems to have things in perspective, as evidenced by his comments at the beginning of the show, discussing how he has a degree and job offers elsewhere, but felt he had to give football a try.
– Chace Coffmann: Every season of hard knocks seems to focus on a rookie tight end. First it was Todd Heap. Last year it was Martellus Bennett, and this year its the Bengals #80. He screwed up early, then stepped up after injuries knocked the first two TE's out of commission.
-Katie Blackburn: The team executive is the first female character the series has ever had who isn't a players hot wife. It could add an interesting twist.
– OchoCinco: Remember how, last season, Hard Knocks made T.O. seem likable?  Same situation here. Chad was funny, personable, and he had the two best quotes: The explanation of Chile Please as a nicer version of fuck you, and his explanation of the levels of being pissed off.
-Liev Schreiber: Best voice ever! Dude is a relatively well-known actor whose side career as the voice of HBO sports has made him this generation's John Facenda.
2. Things we don't like:
-Andre Smith: He's still fat. He's still holding out. He still doesn't seem to get it.
-Speaking of fat guys, I didn't catch the name of the exec responsible for getting contracts signed and telling guys there gone, but I am not a fan. First of all, he pulls his shorts too high making his gut look ridiculous. Secondly, he knocks on a guy's door at 5:30am, and without even saying hi, tells him he's cut, then explains how the guy will get to the airport. When the player finally interrupts to ask why he's being cut, the guy hems and haws for a second before saying it's a matter of ability. Hey, fat exec whose name I forgot.. Chile Please.
– Airhorns are annoying. Coach Marvin Lewis should find a better way to wake his players up in the morning.
-Veteran linebacker Dhani Jones and rookie Rey Maualuga seem like they may end up being annoying if they get too much airtime. The Bengals already have OchoCinco. 4 win teams don't need any other "personalities."
3. Things we hope are covered in future episodes:
-The Palmer brothers seem like an interesting story. Carson's returning from injury and trying to reclaim his position as a top tier QB in the NFL. Meanwhile, his brother, Jordan, seems to have a pretty safe spot as his brother's backup. Would he be on the team, or in the league, if not for DNA? I don't know.
-Does Ben Utecht know what day it is? He was taken from the field on a stretcher after getting knocked unconscious. They called it a mild concussion, but it looked worse than that.