The subject of our latest SportsCracklePop interview is nothing short of a sportswriting legend.  Bert Sugar is out with a new book (he's written more than 50) marking the 70th Anniversary of the Baseball Hall of Fame in Cooperstown. In a wide ranging conversation, he name drops Joe D and Campy, explains why he wears a hat, and even discusses these here interwebs.
SCP: This book is the most thorough history of the Baseball Hall of Fame that I've ever seen.  As someone who's covered a larger number of the enshrined players than most other active journalists, what's your favorite untold story about the Hall, or about one of the past greats honored there?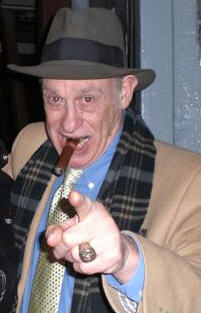 BS: Over the years, I have had the pleasure of meeting several of those who have been enshrined in the BHOF and perhaps my favorite quote – call it a story, if you will – is that of Joe DiMaggio who, when I asked him if he could have made the catch (known as "The Catch") by Willie Mays in the first game of the '54 World Series of Vic Wertz's booming drive, answered, "I wouldn't have lost my cap."
SCP: I've been to all four major sports Halls of Fame, and Cooperstown is far and away the best one. Do you think that has to do with the status of baseball in America, with the actual town of Cooperstown, or simply with the leadership over the years at the Hall?
BS: The answer is a combination of the three. I quote Mark Twain in "Bert Sugar's Baseball Hall of Fame: A Living History of America's Greatest Game" and he said "baseball is the very symbol, the outward and visible expression of the rush and struggle of the racing, tearing, booming nineteenth century" of America, baseball, very early on, was called – and was – our "National Pastime," a part of a growing America. And so, as it became a part of the fabric of our culture, it was only natural that a hall of fame honoring its contributions would, in turn, become a monument to not only the sport itself but of the American experience.
But over and above its founding in the 1930s, the BHOF has become an institution, from it's founding through its expansion some 70 years later, with several forward-thinking administrators who saw in the BHOF a monument not only to the game itself, but to its place in American society. And over the years they have made it into THE greatest hall of fame, whether sports or not, to be found. Moreover, its very location in Cooperstown – which is interchangeable with the BHOF as its locale, so much so that the very name Cooperstown means the Hall of Fame and baseball – further adds to its name and fame. The town fathers (most notably, the Clark family) not only underwrote the original Hall of Fame but work to make it the best hall of fame that can be found and ensure that Cooperstown and the BHOF are unequaled. Plus, the very town of Cooperstown adds to the luster of the BHOF, a bucolic little town that bespeaks early America – or, as Red Smith once wrote in giving directions to the BHOF: "Go up the NY State Thruway and turn left 100 years."
Put them all together and you have the reason why, as you said, "Cooperstown is far and away the best" of the "four major sports halls of fame." And perhaps the best of any.
SCP: Can you talk a bit about your long career? How did you start? How did you end up so identified with the sport of boxing? How many different hats do you have?
BS: Although I went to school (The University of Michigan) to study law – earning a J.D. and an MBA in advertising – I had always wanted to be a sportswriter. And growing up in Washington, D.C., where my favorite team was the Washington Senators (not the Nationals), I followed the Senators – which  was not easy, their double-play combination being short-to-second-to-the-first base stands; and their clean-up hitter's imitation of Babe Ruth being pointing to the pitcher's mound, if he could get it that far. Still, I always harbored a desire to go into sports journalism. And so it was that after a (very) short career as a lawyer in D.C. and a (longer) one in advertising in New York, I finally decided to try my hand (and pen) at sportswriting.
Even though my favorite sport was baseball, I found it closed to newcomers. Or, as Roy Campanella once told me as to how he became a catcher, saying that when he was in high school (Overbrook in Philly), the coach had told the newbies to take the position they wished to play and, as Campy said, "I ran to the outfield, but there were 70 guys in right, 80 in center, and 90 in left, but nobody was behind home plate. So, as fast as my legs could take me, I ran behind home plate to become a catcher," the same was true for me: there were 70 guys in right wanting to be basketball writers, 80 in center hoping to be football writers, and 90 in left with a desire to be baseball writers, and nobody, but nobody, behind home wanting to be a boxing writer. And, because I had been on the boxing team at my undergraduate school (The Univ. of Maryland), I took my place behind the plate called "boxing" even though, truth to tell, I had once started a magazine back in the early '60s called "Baseball Monthly".
So, not able to land a job in my chosen field, I bought "Boxing Illustrated," and later "Ring Magazine." As to being "identified" with the sport of boxing, I guess almost a half century of writing about the sport will do that! As to how many hats I have, I don't know – I wear 'em, not count 'em. But, from the first time I saw a neighbor of mine, the great writer Shirley Povich, wear one, I always thought they were a "go-with" sportswriters. And then I saw others, like Red Smith an Damon Runyon, wearing one, so I figured that to be a sportswriter – even if it were a sportswriter of olde – I needed to wear a hat.
And here, a quick story as to why reporters of olde wore hats: Seems that papers of yore were built so that the editorial room was the floor below the linotype room and the filings of the hot lead drifting down in a steady drizzle on the heads of the writers on the floor below. So they took to wearing hats to keep the drizzle of filaments off their heads. If you see old movies, like "Front Page," you'll see writers wearing their hats indoors for the above mentioned reason.
SCP: What are your feelings on the current state of sports journalism? ESPN is a juggernaut, the internet is exploding…meantime newspapers and local television affiliates are eliminating sports jobs. Where do we go from here?
I'm afraid we may no longer have "giants" in the field of sportswriting, like Grantland Rice, Jim Murray, Red Smith Shirley Povich, etc., etc., etc. … the list is too long to name all of them. The reason being that the sports fan of today has too many potential venues (be the internet sites, papers, or magazines) and too many sports to follow. Moreover, in this world of instant information, there is a tendency to pay less attention to long articles and more of a desire to ingest merely the results, making thought-out articles a thing of the past. Whereas in the past, sports writers would spend hours (whether at the bar or on trains or wherever) socializing and exchanging stories about their sport and the history thereof, the younger sportswriters seem less inclined to spend time with other sportswriters, instead racing off to see how many free flyer miles they've accumulated at whatever spot they've arrived.
And so less is learned to be passed on to potential readers. I remember standing at the bar at Toots Shor's in New York many, many years ago, listening to sportswriters tell stories of years past. And one I can still recall was told to me by John Drebinger of the New York Times, who had been covering the NY Yankees, it seems, since Day One. He told of the time the Yankees were on a long road trip, traveling by train from St. Louis to Chicago, with the writers in tow. And, as the writers sat down in the dining car to play bridge, the door to the dining car slammed open and Babe Ruth ran down the middle aisle, stark naked. A few seconds later, the door again slammed open, and a beautiful redhead, equally naked, ran after The Babe, knife in hand. As one of the writers looked up, cards in hand, he said, "Well, there's another story we won't carry." Tell me where today's writers hear stories like this to pass on to today's readers!
SCP: When you look at what boxing has become (essentially a fringe sport with a dwindling number of fans) what do you think? Is there a way back from the wilderness?
BS: For the first fifty years of the 20th century, boxing was one of the three major sports, along with baseball and horse racing. However, as our plate has become filled with more and more sports (and I didn't know Texas Hold 'Em was a sport until I saw it, wall-to-wall, on ESPN), boxing has been pushed off the main menu and is now, charitably, number 11 on the list of sport's top 10. However, it still is one of the three major sports in most countries where they have fewer sports to follow. That said, all it needs is a charismatic figure like Muhammad Ali or Sugar Ray Leonard to once again make it a "major" sport, like what Tiger Woods did for golf.
However, what is needed even more is a revitalization of the heavyweight division. Especially for Americans, who have long held that division not only to be the flagship division for boxing, but their own special province – going all the way back to John L. Sullivan. Today we have four heavyweight champions (really three since one of them, a Klitschko – and I don't know which one, since I believe there's only one who goes in and out of the room changing his clothes and his name), who all could stand in a police line-up, clad in trunks, gloves and robes, holding their Alphabet-soup belts over their heads and not only would no one know who they are, but they're so anonymous they wouldn't even know what they do for a living. We need a recognizable and gifted heavy weight to bring boxing back, but unfortunately, there ain't none. The best heavyweights out there (those over 250 pounds) are playing football! And the best two are Ray Lewis and Brian Urlacher, who, unfortunately for boxing, are in the NFL.
SCP: Do they let you smoke cigars inside at most sports venues? I mean, you're Bert Sugar. That's got to count for something.
BS: I'm afraid, in this day and age of political correctness and health concerns, it counts for very little. I go back to the "good" old days, when I boxed in what was called "smokers," when everyone – and I mean everyone – smoked. (Unfortunately, the boxers couldn't find their opponents with a Geiger counter through the accumulated smoke.) Now, while we're fighting for democracy throughout the world, we're losing ours here in the good ol' US of A. Still, I'm at an age now where I merely hold onto my cigar, it giving me something to grab onto in case I'm falling down. And if anyone gives me any grief over my cigar (lit or not), I merely tell them that if it weren't for 25 cigars a day smoked by Winston Churchill, we'd all be speaking German." And, as for health concerns, those damned cigars killed George Burns at 100, so I guess I'm healthier because I don't light up at sports events!