I've seen the future of hockey, and it lies on the banks of Lake Michigan.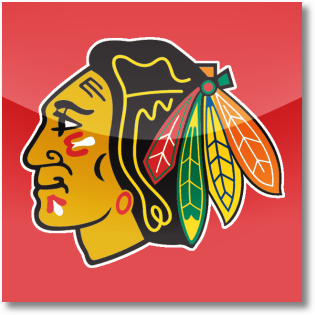 The Blackhawks are poised to break into the upper echelon of the NHL. They already lead the league in attendance. Their Winter Classic match up against the Red Wings set a ratings record. Now the team's twin stars have been elected starters in the All Star game.
There might not be a more marketable group in  the sport.
 Sidney Crosby's been forced down fans throats for years, and though his talent certainly lives up to the hype, there are some semi-alarming personality flaws which may prevent him from living up to the Gretzky comparisons. Evgeni Malkin and Alex Ovechkin are amazing talents, but the league needs North American stars to appeal to a North American audience.
Into  that void steps Jonathan Toews, Patrick Kane and company.  They're already in second place in their division, and are starting to develop a rather nasty rivalry with the Red Wings.  The situation compares quite favorably to the upstart Bulls of the late 80's and early 90's taking down the Bad Boy Pistons. The Blackhawks aren't there yet, but it's coming.
The team has as much history as any organization in the sport. It also has the longest championship drought, which could help attract casual fans who like to see streaks like that broken.
And speaking of attracting casual fans, how about the funeral story? The entire team skipped a day off, rented a bus, and went to their boss's father's wake.
It's a team with skill, star power, history and class. In other words, it's a model franchise.
Jump on the bandwagon while there's still room.