It was five hours of sheer sports perfection. It was a perfect mix of history, celebration and drama.  It was enough to rejuvenate the fan in all of us.
It was the 2008 Major League Baseball All Star Game.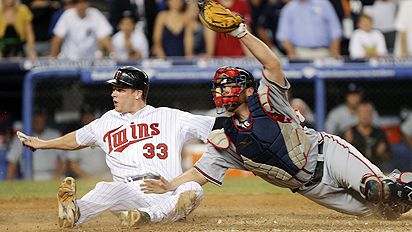 Who would have though the sight of all those Hall of Famers, mixed in with this year's starters, would end up being a pleasant afterthought to the night's majesty?  (By the way, Willie Mays.. you think you could try to make it look like you're happy to be there? How about a smile? How about acknowledging Josh Hamilton when he tries to shake your hand?)
This year, it's the game that will garner the headlines, not the pomp and circumstance surrounding it.  The drama started early, as pitchers on both sides hung zeroes on the scoreboard for the first four innings.
Terry Francona may have actually won some fans in the Bronx, for the way he handled the three Yankees on the AL team.  He pulled A-Rod in the middle of an inning, so the fans could give him proper applause.  It didn't really work, since most people in the stands didn't realize what was happening until the Yankee slugger was already in the dugout. But, even that worked out right, since everyone knew to pay attention when Derek Jeter left one inning later. And let's be honest. The Captain is the one every wanted to cheer for anyway.  And in the 10th, Francona brought Mariano Rivera into the game mid-inning. "Enter Sandman" indeed.
And let's also give credit where it's due.  Bud Selig's ridiculous decision to end the 2002 game in a tie only added to the drama last night. As the innings dragged on, and the bullpens started to empty, each at-bat had a little extra pressure. Everytime someone failed to score a runner from second, the sport edged a little bit closer to disaster.  And by disaster, I mean idiots like Skip Bayless and Jay Mariotti yelling on TV today about what a disgrace it was.
And by the time Justin Morneau scored at 1:37 this morning, on the last close play in a game full of them, my faith in sports had been rejuvenated.  In a summer full of exercises in media masterbation like Brett Favre, Tim Donaghy and Roger Clemens, a well played baseball game is the perfect cure.  There were no losers last night. Not the players, not the commissioner, not the network, and certainly not the fans.
Well, maybe there was one loser. Seriously, Willie, you're the best that ever played. How about acting like it?