I'm a skeptic by nature, never impressed by the next big thing.  It takes a lot to change my mind.  In fact, it's only really happened twice in the last few years. The first time was when I finally bought an IPod. The hype was true. It did change my life. I can listen to music anywhere and not worry about carrying a bag full of CD's with me. AMAZING!
The second time was last night.  Josh Hamilton is the real deal.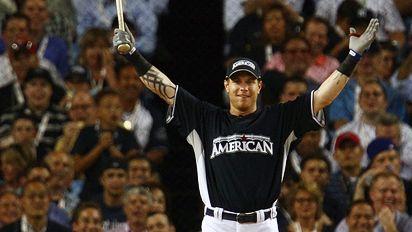 Everyone knows his story: phenom turned crackhead turned comeback player of the year.  But until I actually saw Hamilton tee off during the homerun contest last night, I figured he would eventually sink back into the woodwork, just one of many stars in the baseball universe.  But your run of the mill everyday all star does not do what he did at Yankee Stadium.  28 homeruns in the first round? That's ridiculous on it's own. But it was the way he hit those homeruns that changed everything.  It was one bomb after another.  He was John Henry, driving railroad spikes faster than any machine, before, finally, his body gave out in the final round.  
John Henry is a great figure of American Mythology. So, too, may be Josh Hamilton one day.