Sure we're smack dab in the middle of the most exciting NBA Finals in a decade, but it's time to look towards next season. The draft is 9 days away. In preparation for that magical evening, and the mistakes that are bound to be made, it's time to review drafts of the past. We'll do one a day until Michael Beasley or Derrick Rose put on a Bulls hat, and share an awkward handshake with David Stern.
Today: 1999
Top 5:
Elton Brand (CHI)

Steve Francis (VAN)

Baron Davis (CHA)

Lamar Odom (LAC)

Jonathan Bender (TOR)
The Hindsight is 20/20 Top 5: Injuries and inconsistency dominate the careers of most of these players
Elton Brand

Manu Ginobili

Richard Hamilton

Baron Davis

Shawn Marion
Brand would be Hall of Fame bound if he hadn't been stuck on terrible teams his entire career. He might still be, anyway. Both Ginoboli and Rip are second bananas on championship teams. Davis is an all star when properly motivated. As for the matrix, I guess we'll see if it was him or the system. I'm banking on him.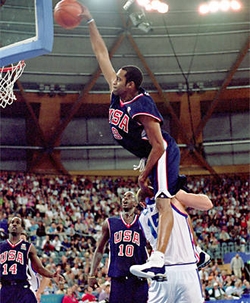 1st rounder who should have gone in the 2nd round: I may rename this category in his honor. I remember watching this draft with my friends and seeing that Ron Artest was sitting there, just waiting for the Knicks to take him. That didn't happen. Instead, they took French center Frederic Weis, who was to be the heir apparent to Patrick Ewing. Instead, he took Vince Carter's crotch to the face.
2nd rounder who should have been taken in the 1st round: Look back at the hindsight top 5. Manu Ginobili, the guy who should have gone number 2 overall, was the second to last pick in the entire draft, after guys like AJ Bramlett, Obinna Ekize, and Evan Eschmeyer. And that's why the Spurs are the team of the decade.